Staff
Roberto Lattanzio, Executive Director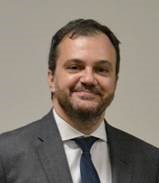 Roberto Lattanzio is the Executive Director of ARCH Disability Law Centre. He joined ARCH as an articling student in 2003 and was hired as a staff lawyer thereafter. He was called to the Bar of Ontario in 2004. Robert received his LL.B and B.C.L. law degrees from McGill University in 2003 with distinction, and received his B.A. from Concordia University in 1999 with honours. He has acted as counsel in test case litigation at all levels of court, including the Supreme Court of Canada, and has made law reform submissions to various levels of government, committees, and administrative bodies. Robert has been appointed to numerous advisory committees. Robert currently is a member of the Community Advisory Group to the Ontario Human Rights Commission, serves as an associate to Inclusive Education Canada, and previously served as ARCH's representative on the Equity Advisory Group to the Law Society of Ontario.
Robert has guest-lectured and written on diverse topics including equality and human rights law, administrative law, education law, capacity and supported decision making, legislative reform, and social science evidence. He also has delivered extensive rights education training to our communities of persons with disabilities and continuing legal education to the legal profession. Robert has a long standing interest in disability rights issues and social justice, with extensive work and volunteer experience within disability communities and within other marginalized communities prior to entering the legal profession, and has since volunteered on not-for-profit Boards of Directors, including serving as President on the Board of East York East Toronto Family Resources.
Amanda, Intake Coordinator and Rights Worker
Amanda is the Intake Coordinator and Rights Worker at ARCH. She has been with ARCH since 1999 in various intake related positions including the position of Community Legal Worker.
Dianne Wintermute, Staff Lawyer
Dianne joined ARCH permanently in July 2009, having worked here on a two year secondment from 2003 – 2007. Dianne was called to the bar in 1986. She brings an extensive community legal clinic background to ARCH. She was the Executive Director of East Toronto Community Legal Services from 1991 – 2009. In that capacity, Dianne's work focused in legal areas that included constitutional litigation, human rights, income maintenance, criminal injuries compensation and immigration and mental health law. She has been active in casework and representation, community development, public legal education and systemic reform activities. Dianne holds a certificate from Algoma University in Community Development. Dianne has extensive litigation experience. She has represented individuals and disability organizations at various tribunals and all levels of court, including the Supreme Court of Canada, in cases involving the advancement of the rights of people with disabilities and people living in poverty.
Doreen Way, Office Manager
Doreen Way first joined the community legal clinic system in 1987 working at Justice for Children and Youth until 2000. During that time, Doreen was active on several inter-clinic committees and co-founded the Toronto Support Staff Association (TSSA). In February 2000, she left the clinic system to join the team at the St. Joseph's Health Centre Foundation where she worked on their capital campaign. In February 2002, she returned to the clinic system and joined the ARCH team as Office Manager. Doreen continues to be involved in inter-clinic activities including the Knowledge Management group and the TSSA.
Gabriel Reznick, Staff Lawyer
Gabriel joined ARCH in August 2019, after being called to the Bar of Ontario in January of that year. Following completion of undergraduate and master's degrees in political science, he attended law school at Queen Mary University of London, in the UK. After returning to Canada, Gabriel obtained Master of Law from Osgoode Hall Law School. Gabriel articled at Industrial Accident Victims Group of Ontario (IAVGO), a community legal clinic that specializes in workplace compensation. Gabriel has appeared before the Superior Court of Justice, Small Claim's Court and has written submissions to the Ontario Workplace Safety and Insurance Appeals Tribunal (WSIAT).
Hina Ghaus, Staff Lawyer
Hina joined ARCH in July 2019 as a contract staff lawyer. Previously, she completed her articles at a labour and employment firm in Toronto, ON. She has represented clients in court proceedings and before various administrative tribunals. Hina first came to ARCH as a student volunteer during law school. Her interest in human rights law and intersectionality brought her back to ARCH where she practices primarily in the area of human rights for people with disabilities.
Jessica De Marinis, Staff Lawyer
Jessica joined ARCH in August 2017. Prior to working at ARCH, she practiced employment and human rights law in Hamilton, ON. Jessica has appeared before various courts and administrative tribunals, including the Human Rights Tribunal of Ontario, the Canadian Human Rights Tribunal, and the Ontario Superior Court. She practices primarily in the area of human rights law for persons with disabilities.
Kerri Joffe, Staff Lawyer
Kerri joined ARCH in 2007. She has been involved in disability rights litigation at various tribunals and courts, including the Supreme Court of Canada. Kerri has presented law reform and policy submissions to legislative committees, governments, administrative bodies and the United Nations Committee on the Rights of Persons with Disabilities. She has authored law reform reports for the Law Commission of Ontario, the Canadian Human Rights Commission and the Government of Canada. Kerri has delivered extensive public legal education to communities of persons with disabilities, and has guest lectured on disability rights issues. Before joining ARCH, Kerri worked at a community legal clinic where she provided legal advice and conducted community organizing on housing rights and social assistance programs. Kerri completed McGill University's joint program in law and social work and received her LL.B., B.C.L. and Master of Social Work degrees with great distinction. Before attending law school, Kerri worked with adults with mental health disabilities and children labelled with intellectual disabilities.
Lila Refaie, Bilingual Intake Lawyer and Student Programs Lead
Lila Refaie was called to the Bar of Ontario in 2012. She articled in the Prescott-Russell community legal clinic, in Hawkesbury, ON. After she was called to the Bar, she briefly practiced family law and immigration law in Ottawa. In March 2013, she returned to the Prescott-Russell community legal clinic as staff lawyer, where she primarily practiced tenant law and social assistance law. In mid-July 2017, she joined ARCH Disability Law Centre as a contract staff lawyer.
Mariam Shanouda, Staff Lawyer
Mariam was called to the Bar of Ontario in 2014. She completed her articles at a civil litigation firm specializing in employment law, where she stayed on as an Associate after being called to the Bar. She has appeared in Small Claims Court and the Superior Court of Justice on a variety of matters and has represented clients at mediations, settlement negotiations and during various court proceedings. Mariam is currently a Member-At-Large of the Ontario Bar Association's Equality Committee which is charged to examine and recommend ways in which Ontario's legal institutions can serve the needs of minorities. Mariam's keen interest in disability rights brought her to ARCH in 2015, where she is currently a staff lawyer. She practices primarily in the area of human rights for people with disabilities.
Mary Hanson, Librarian
Mary joined ARCH in 2011. She has worked as a reference and technical services librarian in academic, health, legislative and nonprofit institutions, and as an editor with IHS/Micromedia.
Theresa Sciberras, Operations, Program and Administrative Assistant
Theresa joined ARCH in August 2002. She has worked in the non-profit sector for several years, focussing her efforts towards assisting persons with disabilities and the organizations that support them. As Program Assistant, Theresa supports ARCH staff, assists with the co-ordination of meetings and workshops, maintains ARCH's membership and distributes the ARCH Alert.
Yangtzee Tamang, Litigation Assistant
Yangtzee Tamang joined ARCH in April 2007. Prior to joining ARCH, she worked with the Ministry of Government Services as an intern under the internationally trained professional internship program in the capacity of Accessibility Support Analyst. Before that, she worked with the United Nations Development Program and the United Nations Volunteers in Nepal and Germany and the United Nations Mission in Ethiopia and Eritrea.
Last Modified: November 4, 2019