Staff
Roberto Lattanzio, Executive Director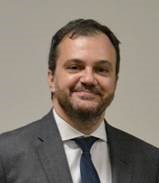 Roberto Lattanzio is the Executive Director of ARCH Disability Law Centre. Robert has been Executive Director since 2015, and first joined ARCH in 2003. He has acted as legal counsel in test case litigation at all levels of court, including the Supreme Court of Canada, and has made law reform submissions to various levels of government, committees, and administrative bodies. Robert has been appointed to numerous advisory committees, and has written and guest-lectured on diverse topics including equality and human rights law, administrative law, education law, capacity and supported decision making, disability rights, legislative reform, and social science evidence. He also has delivered extensive rights education training to our communities of persons with disabilities and continuing legal education to the legal profession. Robert received his LL.B and B.C.L. law degrees with distinction from McGill University in 2003. Robert has a long standing interest in disability rights and social justice, with extensive work and volunteer experience within disability communities and other equity seeking communities. Robert is the 2022 recipient of the Law Foundation of Ontario's Guthrie Award for his contributions to advancing access to justice.
Amanda, Intake Coordinator and Rights Worker
Amanda is the Intake Coordinator and Rights Worker at ARCH. She has been with ARCH since 1999 in various intake related positions including the position of Community Legal Worker.
Charles Hackbarth, Respecting Rights Coordinator
Charles Hackbarth joined ARCH in March 2023. He has supported individuals labeled with an intellectual disability in various settings over the course of his 30 year career in community based work. As a Community Support Coordinator at Community Living Toronto, he helped establish, and support, the Self Advocates Council. He has supported self-advocates at various conferences including CLO. During his 24 years at Community Living, Charles facilitated art class, curated art shows, and created a week-long disability arts festival. While supporting individuals who lived independently in the community, Charles observed, firsthand, the challenges individuals labeled with an intellectual disability faced having their rights respected within their communities.
Doreen Way, Office Manager
Doreen first joined the community legal clinic system in 1987 and worked at Justice for Children and Youth until 2000. During that time, Doreen was active on several inter-clinic committees and co-founded the Toronto Support Staff Association. In February 2000, she left the clinic system to join the team at the St. Joseph's Health Centre Foundation where she worked on their capital campaign. In February 2002, she returned to the clinic system and joined the ARCH team as Office Manager. Doreen continues to be involved in several inter-clinic committees and is also involved with several organizations in a volunteer capacity.
Elsie Tellier, Staff Lawyer
Elsie joined ARCH in July 2023, shortly after being called to the Bar of Ontario in June that same year. Before joining ARCH, Elsie articled at the Ontario Office of the Children's Lawyer. She completed her undergraduate studies at Harvard where she concentrated in Sociology and Classics. Elsie studied law at the University of Toronto and during her legal studies she founded and ran the Disabled Law Students Association. Elsie also interned with the Human Rights Watch Disability Rights Division during the 2020 and 2021 summer terms.
Gabriel Reznick, Staff Lawyer
Gabriel joined ARCH in August 2019, after being called to the Bar of Ontario in January of that year. Following completion of undergraduate and master's degrees in political science, he attended law school at Queen Mary University of London, in the UK. After returning to Canada, Gabriel obtained a Master of Law from Osgoode Hall Law School. Gabriel articled at Industrial Accident Victims Group of Ontario (IAVGO), a community legal clinic that specializes in workplace compensation. Gabriel has appeared before the Superior Court of Justice, Small Claim's Court and has written submissions to the Ontario Workplace Safety and Insurance Appeals Tribunal (WSIAT).
Graciela Flores Méndez, Staff Lawyer
Graciela Flores Méndez was welcomed by ARCH in July 2022. Prior to joining ARCH, she practiced immigration and refugee law and was employed at various social-justice focused firms as both a lawyer and law clerk. Graciela completed her articles at a union-side labour firm committed to advancing equity and social justice where principal areas of practice included human rights, labour, administrative, and civil law. Graciela earned a JD with a social justice option from the University of Ottawa Faculty of Law in 2018 and was called to the Bar of Ontario in June 2019. She received a Master of Arts in Socio-Legal Studies from York University in 2010. Graciela offers services to clients in both Spanish and English.
Hannah Lee, Staff Lawyer
Hannah joined ARCH Disability Law Centre in January 2022. She practiced for five years as a civil litigator at a boutique litigation firm in Toronto. She has an LLM in Health Law. She launched Ontario's third medical-legal partnership at Holland Bloorview Kids Rehabilitation Hospital, and for 8 years, she served as their Pro Bono Ontario "Triage Lawyer." Hannah's initiative was instrumental in bringing about a systemic change to the ServiceOntario Accessible Parking Permit application process. As a result, persons labeled with an intellectual disability no longer need guardianship if capacity is at issue.
Ilinca Stefan, Staff Lawyer
Ilinca earned her law degree from Osgoode Hall Law School before articling with the Clinical Legal Services Department at the Centre for Addiction and Mental Health (CAMH). At CAMH, Ilinca worked on matters regarding consent to treatment, involuntary psychiatric admission, and privacy legislation. While in law school, Ilinca completed the Disability Law Intensive Program with ARCH. She returned to ARCH as a staff lawyer in January 2022.
Janeille Jackson, Litigation Clerk
Janeille attended Seneca College and graduated with Office Administration – Legal and she graduated again from the Law Clerk accelerated program at Seneca College. She has worked as a law clerk in various areas of law; Family, Real Estate – Condo development and subdivision; and Criminal law. Highlights of her experience include working at one of the largest criminal defense law firms in Toronto for 2 years and at the Superior Court of Justice as a Clerk and Registrar for 2 years in Bail, Plea court, Judicial Case Management, Trial scheduling, Preliminary hearings, and trial courts.
Jessica Field, Respecting Rights Community Legal Worker
Jessica Field joined ARCH in February 2022 as a Respecting Rights Community Legal Worker. Jessica has 10 years of working experience in the Developmental Services sector in a variety of positions from front-line to management roles. She also has 20 years of experience in public speaking and advocacy work where she has traveled across Ontario advocating for the rights of people with disabilities. Jessica is passionate about disability rights and with her combined education, work, and lived experience, she brings a unique perspective to the work she does at ARCH Disability Law Centre.
Kerri Joffe, Staff Lawyer
Kerri is a human rights lawyer at ARCH Disability Law Centre. She has been involved in disability rights litigation at various tribunals and courts, including the Supreme Court of Canada. Kerri has presented law reform and policy submissions about disability law issues to legislative committees, governments, administrative bodies and the United Nations Committee on the Rights of Persons with Disabilities. She has authored law reform reports for the Law Commission of Ontario, the Canadian Human Rights Commission and the Government of Canada. Kerri has delivered extensive public legal education to diverse disability communities, and has guest lectured on disability rights issues. Before joining ARCH, Kerri worked on housing rights, social assistance programs, immigration and refugee issues, human trafficking, and as a law clerk to Superior Court judges. Kerri holds degrees in law and social work from McGill University.
Lila Refaie, Bilingual Intake Lawyer and Student Programs Lead
Lila was called to the bar in 2012, and joined ARCH Disability Law Centre in July 2017 as a staff lawyer, offering legal services related to disability rights to persons with disabilities across Ontario. Since 2019, she is the Bilingual Intake Lawyer and Student Programs Lead at ARCH, providing legal services in both English and French. In addition to providing direct legal services to persons with disabilities, she also delivers public legal education and presentations to members of the legal profession and ARCH's communities on a variety of topics. Before joining ARCH, she was a staff lawyer at a community legal clinic in Prescott-Russell, practicing in poverty law. She also briefly practiced in family law and immigration law. Throughout her legal career, Lila has appeared before several administrative tribunals, the Superior Court of Justice and Divisional Court.
Mary Hanson, Librarian
Mary joined ARCH in 2011. She has worked as a reference and technical services librarian in academic, health, legislative and nonprofit institutions, and as an editor with IHS/Micromedia.
Theresa Sciberras, Operations, Program and Administrative Assistant
Theresa joined ARCH in August 2002. She has worked in the non-profit sector for several years, focusing her efforts towards assisting persons with disabilities and the organizations that support them. As Operations, Program and Administrative Assistant, Theresa supports ARCH staff, assists with the coordination of meetings and workshops, maintains ARCH's membership and distributes the ARCH Alert.
Last Modified: July 19, 2023