If Inclusion Means Everyone, Why Not Me?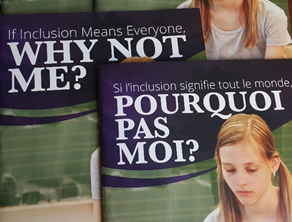 In partnership with Brock University, Western University, Community Living Ontario, Inclusive Education Canada, and Brockville and District Association for Community Living, ARCH conducted extensive research on the barriers to meaningful and inclusive education from K to 12 in Ontario. The final report, titled 'If Inclusion Means Everyone, Why Not Me?', was released in English and French in May 2018 during a panel presentation hosted by Ryerson University. Some of the barriers identified in the Report include:

Students with disabilities routinely denied access to school and/or classroom;
Limited access to appropriate accommodations;
High levels of conflict between educational staff and families, with limited recourse to dispute resolution mechanisms; and
Limited data on disability-related barriers in the education system.

May 1, 2018